In the spring of 2023, Honeywell Golf Course and Commercial Irrigation and Turf, Inc. will install a new, state of the art irrigation system to better water the course and keep it maintained.  This new system will include a new pumping station, main water line, water supply lines, new sprinkler heads, new isolation valves, and a new central control system.  When complete, this system will rival even that of many private golf clubs.  During this process, we hope you will follow this page as we update you to the progress of the project.  This new irrigation system is made possible by people like you that play the course and use our amenities.  It is also possible because of generous donations over the years.  While this project is off and running, we have many more upgrades we would like to do in the future.  If you would like to see these projects completed, please continue to play the golf course, or if possible, consider making a donation through one of the methods below.
For tax deductible donations:  (personal checks, bank checks, RMD from an IRA or family trusts)
Make checks payable to City of Wabash.  On the memo line put Honeywell Golf Course.
Mail to:
City of Wabash
202 S Wabash Street
Wabash, IN  46992
Or deliver to:
Honeywell Golf Course
3360 W Division Road
Wabash, IN  46992
For non-deductible donations:
Make checks payable to Honeywell Golf Course.
Deliver to:
Honeywell Golf Course
3360 W Division Road
Wabash, IN  46992
6/12/2023
The irrigation company has been hard at work this work this week and began installing new sprinkler heads on the first hole and putting green.  Each head is its own sperate computer and can be controlled remotely from almost anywhere in the world.  All you need is an internet connection.  It can even be controlled from your phone.  We are hopeful that within the next week we will be able to water the entire first hole.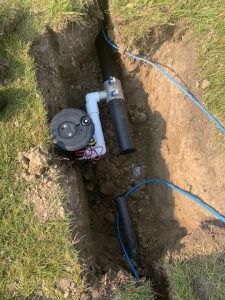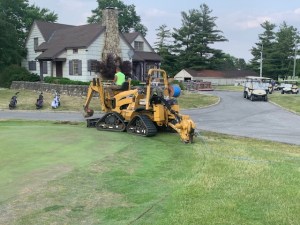 6/5/2023
This past weekend the Irrigation Crew completed a major milestone by boring unground on hole # 10 and under the road between 10 and 11.  This boring processing connected the main water line from the pumping station on hole 16.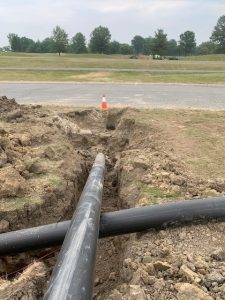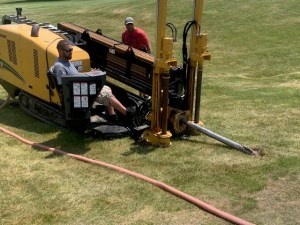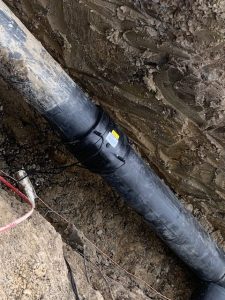 5/23/2023
The main water line is being installed along 15, 16, and 17 .  This water line will run parallel to many of the holes and is how water is supplied to each individual hole.  The construction company has also began to install new heads on hole 15.  The project is off to a fast start.  Come play a round and take a look at our progress.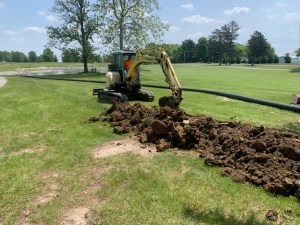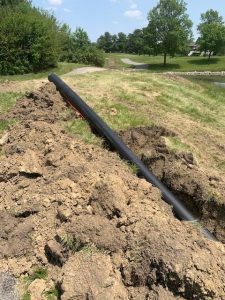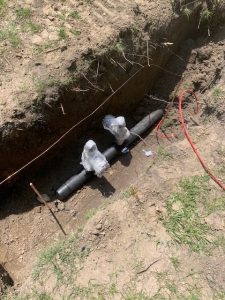 5/17/2023
The first pipe has been fused together and pipe has already begin to be placed in the ground.